Dental Cleaning

Mesa, AZ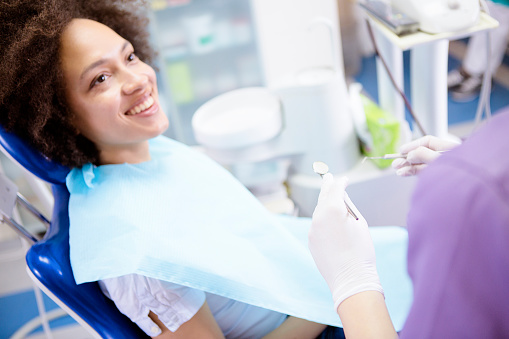 Are you one of those people? You know the ones we are talking about. Did you know that 75% of Americans are nervous about visiting a dental professional? Did you know that at least 15% of the population is so afraid to visit us that they never come in at all? That's not a good statistic. Visiting us can not only save your smile from tooth decay and gum disease; it can also save your life. Let Christensen Family Dentistrytell you step by step what dental cleaning looks like. That way, you can come in and visit us without fear.


First, A Quick Check

The first step of the cleaning process is when we use a small mirror to check your gums, teeth, and other structures of your mouth. Using a mirror helps us see your mouth more clearly. We are checking for three really important potential problems in your mouth. First, we look for red, inflamed gums or signs of gum infection. Second, we look for signs of cavities or tooth decay. Third, we look for bumps, spots, or problems with your mouth structures.


Then, There's Plaque Removal

After we check the structures of your mouth, we will use a scraper to take any plaque or tartar from your teeth and gumline. If you have been cleaning your teeth and flossing, this won't take long. If you haven't been cleaning or flossing as well, this is going to take longer. No matter how long it takes, removal of plaque or tartar should not be painful.


Cleaning and Flossing

After we get all of the plaque off your teeth, we will clean your teeth thoroughly. Some people use baking soda solution to clean. Others use a gritty toothpaste. Your teeth will be sparkling when we finish. Cleaning your teeth is not painful at all. We actually hope you enjoy it.

We will then floss your teeth. We do this for two reasons. First, we floss your teeth to look for gingivitis- gum disease. Often one of the first signs of gum disease is bleeding teeth. Second, we want to make sure you know how to floss properly. That way, you can be an agent in the cleaning of your mouth. You will be rinsing your mouth during the cleaning and flossing process.

We may apply a fluoride treatment to your mouth. We might also check your mouth again after your fluoride treatment. After the cleaning, we will perform a dental exam and an oral cancer screening. One of our dentists will talk to you about your mouth, and what you can do to keep it healthy. This is important because the main reason people lose their teeth is due to tooth decay or gum disease. Both of these diseases happen when bacteria attack your teeth and gums. Over time, this bacteria can cause serious problems for your mouth - and your health. Both tooth decay and gum disease can lead to heart disease, complications for diabetics, and strokes.

If you are afraid of cleanings, give Christensen Family Dentistry a call at (480) 964-2131. We would love to talk to you about your fears. We can schedule a time for you to come in and talk to us about your fears. Who knows, you might even find out that visiting us isn't nearly as bad as you thought!