Digital Radiography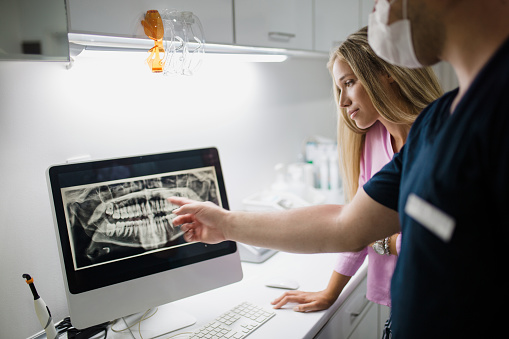 Have you ever wanted to look at your mouth from the inside? We do it every day! Seriously! We use x-rays to examine the structures of your mouth over time. This helps us keep track of changes in your mouth, and work to protect your teeth and gums from trouble. However, x-rays are seen as old, expensive, impractical and outdated. We now have new technology that allows us to take better photos of your mouth more quickly. Not sure what we are talking about? Christensen Family Dentistry wants to talk to you for a minute about the wonders of digital radiography.


A New Science

Digital radiography is nothing more than digital x-rays. It is a tool we can use to monitor your teeth, gums and mouth. We can use those x-rays to find problems, figure out what they are, and begin treating them. Digital radiography also makes it easier to get an up close look at your teeth, gums, and jaw.


What Are Digital X-Rays?

In the past, x-rays were a long process. We would put film in your mouth, you would bite down, and we would take an x-ray. It took several films for us to get a complete picture of your mouth. Also, we couldn't view x-rays at the time we took the pictures. We had to wait for them to be developed, which means that if there was a problem, we might have to call you back in.

Digital x-rays speed this process up considerably. First, we are able to get pictures in multiple ways. We can take pictures inside your mouth and outside your mouth. This allows us to get a really good look at all of the structures of your mouth. Second, we can take pictures more easily. Instead of taking multiple films, we usually can get a complete picture of your mouth with two pictures. Some x-ray technology allows us to use one rotating x-ray machine to take pictures. These new pictures are also quick to develop. We can see the pictures instantly. If you have a problem with your mouth, we can tell you about it that visit, and begin treatment if necessary.


Why Digital Radiography Is Important

Because digital technology is so advanced, we can take pictures of your mouth and see problems we would not have been able to see previously. That means we are able to find problems when they first appear and treat them quickly. Depending on what your condition is, the sooner we can get you into treatment, the more quickly and effectively you can be treated.

Do you have questions about digital radiography? Do you want to make sure that we use digital radiography in our practice? Do you want to know how digital radiography helps us in our practice? We love to talk about our latest technological tools! Give Christensen Family Dentistry a call at (480) 964-2131. We would be thrilled to talk to you about how we use digital radiography to make your life better! Call us today.